These golf balls are slightly better than some of the other variants in this price tag, meaning that they are not solely made for amateur golfers.
Even experts will find using these quite fun, and since they also take the cake when it comes to durability and performance, we say that Nitro Golf Crossfire Golf Balls are worth considering.
Features Nitro Golf Crossfire Golf Balls
What is neat about the golf balls is that they boast a slightly different exterior design.
The DuPont Lithium SURLYN Cut exterior cover is designed for long-term wearing and tearing, so you will not have to invest in another set of golf balls ahead of time.
On top of all, the titanium cover guarantees superior energy transfer and includes the durability we mentioned earlier.
As for the 80 compression design, it indeed gives you max spin and excellent traction.
If you do not have many handicaps, it looks that these are the correct balls to invest in. They have a soft and smooth feel, good around the green.
Read Next Best Golf Clubs For Beginners Available in 2022
Main features Nitro Golf Balls
A solid two-piece titanium core maximizes the energy that moves from the clubhead to the ball.
Excellent Distance off woods, with ultimate stopping capability with your irons
Soft feel 80 plus compression with hit and stick action
DuPont Lithium SURLYN Cut proof cover for long-lasting durability
The Nitro Golf Crossfire Golf Balls are made to give a surprisingly long distance from the tee and the best control on scoring shots.
The two-layer design of this ball features a titanium core that moves energy efficiently for a higher distance.
The cover is made with DuPont Lithium SURLYN for cut-proof long-last durability performance. This golf ball is also available in a range of colors.
Read Next KVV 3 Wheel Foldable Golf Push Cart – Durable
All of us know how expensive the golf game is. Between the expense of greens fees, golf clubs, practice sessions, golf balls, and other equipment, several golf players search for high-quality golf items for an affordable price.
Among the most problematic expense of golf is purchasing golf balls. Every golfer wants to have a consistent ball in which they will be confident. However, the price tag for some premium golf balls overshadows the aids for several beginner golf players.
Fortunately, there's a brand dedicated to bringing high-quality golf balls at an affordable price to you, Nitro Golf. So, today, we will review the Nitro Golf Crossfire Golf Balls in the article below.
Let's look at the Nitro golf crossfire golf balls review in this article. Here we go…
About The Nitro Golf Company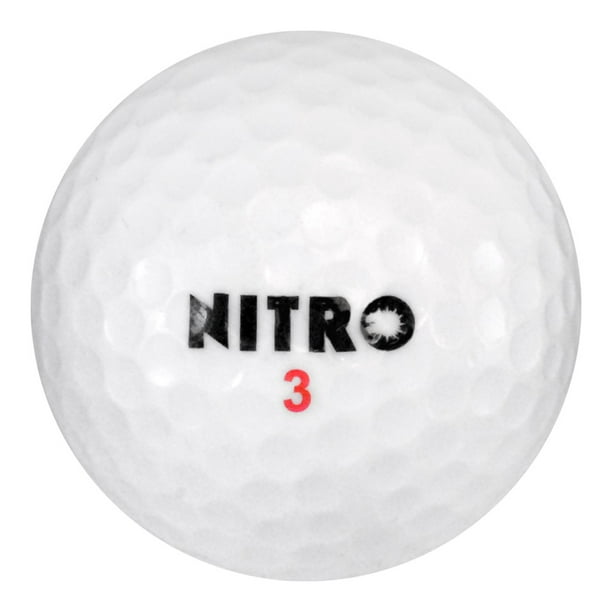 Nitro Golf company is dedicated to providing both elevated performance and high quality. Nitro company aims to deliver golf balls that golf players will appreciate on every level, from the price tag to quality and from version to results.
This company started its journey as a consumer-focused business around 25 years ago. Nitro has always wanted to open up the golf game to all and sundry, particularly their affordability.
Among their significant focuses, listening to the customers is the most vital one. They always look up to their customers for feedback on their product and find out where they need to improve.
Thus, Nitro takes this customer feedback into account while producing new items to continue to improve and innovate their product and meet the ever-changing aspects of the industry of golf. One such product is the Nitro golf crossfire golf balls.
And today, In this article below, we will discuss these Nitro golf crossfire golf balls in detail.
Overview Of Nitro Golf Crossfire Golf Balls
The Nitro Golf Crossfire Golf Balls have the best design and exterior. Its design helps you to take the game to the next level. These Nitro Golf Crossfire Golf Balls deliver you great Distance with excellent control on every shot that you would have found hard to control otherwise.
This item's titanium core is a part of the 2-layer structure as well as it can improve the Distance significantly that you get from the Nitro Golf Crossfire Golf Balls. It comes in various color options, including yellow, white, pink, and orange.
Nitro Golf Crossfire Golf Balls come with its innovative dimple design and High Energy Titanium core, offering you the best performance off the golf tee and softness around the turf.
Let's now know the features, pros & cons, and then review the product from Nitro company.
Features
The balls are made out of 2 pieces

Cut-proof cover made of Dupont Lithium Surlyn offers Long-term Durability.

Dimples with the aerodynamic design, low drag characteristic, and smooth construction

Reactive titanium core enables you for high speed

It comes with a compression of 85
Pros
Softer as compared to the Ultimate Distance golf balls

45-piece of Nitro Golf Crossfire Golf balls come under at $40 only
Cons
Despite its solid core, golfers constantly find that they are losing Distance while playing with Nitro Golf Crossfire golf balls.
Read Next TaylorMade Distance Plus Golf Ball
Nitro Golf Crossfire Golf Balls Review
Nitro company's breakthrough in this innovative High Energy Titanium core and the new dimple design has produced a golf ball with the best softness and performance without sacrificing its Distance. These Nitro Golf Crossfire Golf Balls are well-known.
The low spin off the golf tee and extra feel on the shots make these Nitro Golf Crossfire Golf Balls a perfect product that any player of different skill levels can play. These golf balls from Nitro are made using 50% rubber/50% Surlyn.
Below is a thorough review of the Nitro Golf Crossfire Golf Balls. Let's have a look…
Nitro White Out Ball (15-Pack), White
3 new from $12.34
Free shipping
as of May 14, 2022 9:10 pm
Read Next Best Golf Balls For Women Our Top Picks
Durability
The exterior of the Nitro Crossfire ball's shell is made of DuPont Lithium Surlyn, which makes the ball almost unbreakable. This ball's surface is difficult to break and cut-resistant, improving the cover's robustness, longevity, and impact resistance.
Performance
If you are searching for a long-distance golf ball, this's the one you should consider buying. The reactive titanium core of the ball transfers extreme energy efficiently from the club to the ball.
It spins slower as well as comes with a higher velocity. The aerodynamically designed dimples on the ball's surface help it easily slice through, increasing speed when maintaining flight stabilization.
Affordability
Another significant aspect of the Nitro Crossfire balls is their affordability. Even though it might not work as well as a luxury one, it's undeniably among the premium affordable balls available for such pricing.
Nitro Golf Crossfire 45 Ball Pack Golf Balls
4 new from $24.99
Free shipping
as of May 14, 2022 9:10 pm
Compression
These are higher compression balls and, thus, are often preferred by some fast-hitting golf players. A high compression golf ball travels a longer distance without affecting its spinning with a quick swinging.
Read Next Bridgestone 2020 Tour B RX Golf Balls Review
Why Use Nitro Golf Balls?
Nitro Golf balls have many great potentials that you might be searching for in your golf ball company. The main selling point of Nitro is that the golf balls they produce are very reasonably priced. Several golf balls are unreasonably expensive nowadays and aren't made for an ordinary amateur golf player.
Having a golf ball that meets your budget and your game is a unique option for many golf players. Furthermore, Nitro is attentive to delivering the best golf ball to their consumers by listening to them on how to improve their products.
Nitro focuses on making exceptional golf balls for a reasonable price. They aim to deliver the highest quality and performance equipment at an affordable price. If this aim meets your needs and preferences, then this golf ball company should be your top choice when buying a golf ball.
Read Next Best Taylormade Golf Balls Available in 2022
BOTTOM LINE
For budget-conscious high handicap and beginner golfers, the Nitro brand offers a great item at a reasonable price. So, consider buying the Nitro Golf Crossfire golf balls if you have a tight budget!
Read Next Best Callaway Golf Clubs Full Set in 2022
Cheapest Golf Ball at Walmart (Nitro Golf Ball Review)
Read Next TaylorMade Noodle Long and Soft Golf Balls Review
Nitro Golf Crossfire 45 Ball Pack Golf Balls
4 new from $24.99
Free shipping
as of May 14, 2022 9:10 pm
Nitro Crossfire 45 Ball Pack - Yellow
as of May 14, 2022 9:10 pm
Nitro White Out Ball (15-Pack), White
3 new from $12.34
Free shipping
as of May 14, 2022 9:10 pm
Nitro Golf Glycerin 15 Ball Pack Nitro Golf Balls
3 new from $29.99
Free shipping
as of May 14, 2022 9:10 pm
Rocketballz Golf Ball, 36 bp
3 new from $34.99
Free shipping
as of May 14, 2022 9:10 pm
Wilson Staff F.L.I. Golf Balls (Pack of 12) White
as of May 14, 2022 9:10 pm
Callaway 50 MIX NEAR MINT AAAA USED GOLF BALLS , White
5 new from $44.99
5 used from $32.89

as of May 14, 2022 9:10 pm
Nike Mix AAAA Golf Balls, 50 Balls
1 used from $39.89

as of May 14, 2022 9:10 pm
Yellow Premium Brand Golf Balls 50 Pack (50BKT-PLYL-3-COM), One Size
2 new from $52.95

as of May 14, 2022 9:10 pm
FlightScope Mevo - Portable Personal Launch Monitor for Golf
as of May 14, 2022 9:10 pm